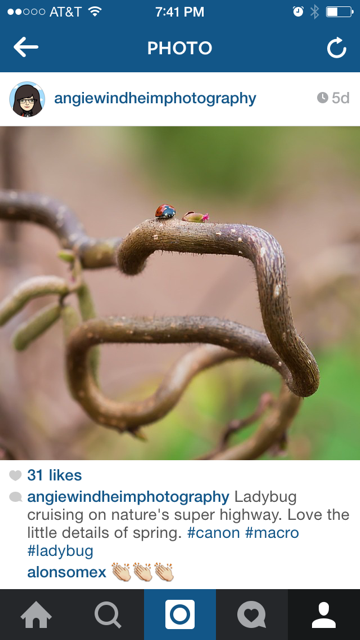 Social media can be a burden. Hours are precious. Daydreaming is a lost art as most of us admittedly need to cut back on our screen time.
But sometimes a little dose of social media can bring you joy. And isn't that just the best way to start your day? A cup of coffee and a smile. Nice.
Instagram is my smile-a-day social media app of choice. No surprise I suppose since I am a photographer and it is all photos. I also love Instagram because it's quick, simple and my Instagram community is so positive. I follow feeds that are happy, inspiring, creative, funny and beautiful.
I want to spread the joy and share my favorite Instagramers. Hope you enjoy them as much as I do.
Bev Weidner (@bevcooks): Oh, this food bloggin' mama of twins is hilarious. I was already a fan of her recipes, but now I can't take my eyes off her babies! You will laugh out loud at her photo captions.
Sarah Cornish (@my4hens): This lady has an incredible talent for capturing the beauty of the everyday with her kids. And, she's an inspirational soul. Her words and stories to go with the photos are meant to lift you up and find the good in even the hard days.
Theron Humphrey (@thiswildidea): This guy is blessed. He travels in a pimped out FJ60 with a fabulous dog named Maddie and takes amazing pictures. Just how does he get Maddie into these stunts and poses? He captures her and the world with stunning creativity and skill.
Jane Samuels (@janesamuels): This UK artist showcases her eye-popping, color-bursting landscape photos on Instagram. They never fail to make me stop and just study the image and long for a hike into quiet and wide-open spaces.