Covid-19 has me nesting like nobody's business.
At first I was okay with the hide inside on my cozy couch with a book approach. I started with Untamed.
Um. Read. This. Book. Please.
And then listen to every morning meeting Glennon has on Instagram. I've been a fan of this author from the beginning. She's a thought leader. We don't get many of those in our lifetime.
I also devoured the sweet chick lit escape Unhoneymooners. Not even on the same playing field as Untamed. But, hey, sometimes we need a little romantic comedy.
During quarantine I have also held solo dance parties while getting creative in the kitchen. I'm a bit hooked on Phoebe Bridgers. Funeral guts me every time. Hurts so good. Billie Eilish is my other guilty pleasure. Thinking I may need to dye these quarantine roots a neon color in her honor. 
When I can't shake my booty anymore, I succumb to the jigsaw puzzles on the coffee table. My Ravensburger Venice puzzle was a doozy. Now we are working on a puzzle made from my own portrait of Venice through Shutterfly. It looks super intimidating. But there are four rainy days in the forecast and plenty of time to spend analyzing those little shapes.
Despite these occasional rain delays, there is no denying that spring has sprung, I am excited to turn my critical eye away from the painted walls inside my home. I really absolutely did not want to paint that master bathroom. Now I can fully push that project aside and begin to refresh and cultivate beautiful spaces outdoors.
I began with "yard painting" (aka spreading bark dust).
While more back-breaking yard chores await, I have also started to look at our outdoor living spaces with an interior decorator eye. I noticed that my family often battles for seats with a view of the yard. I'll admit that staring at the siding on the house or fence boards does lack a bit of zen. Everyone sitting in my outdoor living room deserves a good view. But theatre seating isn't very conversational.
Metal prints to the rescue…
Printing on metal means we can put gorgeous blooms or a serene scene on our naked fences and patio walls. Every seat in our outdoor living spaces can have a 360 degree view.
Metal prints are stunning and sturdy. They can handle the elements. Even full sun.
I would love to help pretty up your personal or professional outdoor spaces. Choose an image from my art collection or let's discuss a custom creation. No clue what to do? Send me a picture of your blank space and I can make a recommendation. Never seen a metal print? Check out this video from Bay Photo.
My first Class of 2020 grad announcement, and it's a beauty!
These final weeks of senior year are not quite what we all imagined, but we will CELEBRATE. Be sure you check in on the almost graduates in your life/ We must not allow them to miss out on the barrage of people asking, "So what exactly are your plans after graduation?" You may not be able to see the eye roll before the answer, but trust me, it's happening! A right of passage indeed.
I'll leave you with an appropriate and favorite quote for seniors from John Lennon,
"When I was 5 years old, my mother always told me that happiness was the key to life. When I went to school, they asked me what I wanted to be when I grew up. I wrote down 'happy'. They told me I didn't understand the assignment, and I told them they didn't understand life."
If you are a Class of 2020 senior that needs a custom grad announcement, we can still get it done! Reach out today and I will send the card samples for inspiration then we will make it fit your current aesthetic tastes!
When I sat down in January to start my Decade in Review, guided by the force that is Marie Forleo, I already new I wanted big change in 2020. After taking time to write down and revisit personal and professional accomplishments for the last 10 years, I am proud and ready to kick some booty in my next decade. I know what it's like to look at a day, a month, a year and feel like nothing moved forward. Look back at 10 years though, and you will impress yourself!
In 2020 I am reimagining my business and how best to serve as a writer and photographer.
My roots are in Oregon. I've always known it was a privilege to grow up surrounded by beautiful spaces and by people that care deeply about protecting them. My vision is to move my professional and personal projects in a direction that supports kindness to our planet as a philanthropist, influencer, and change maker.
Each baby step we take toward a new vision is important. For now, I am setting my intentions and learning a little something every day. I am also committed to taking action. I plan to trust my instincts and avoid spinning my wheels in research mode. Self-designing my new logo was a perfect way for me to get things moving. Once I had it finished, I waited maybe five minutes to update my website and social media. I was so excited.
A quick story on the new logo.
Over 16 years ago, my husband and I bought a little piece of land in Sherwood, Oregon. It was almost entirely pasture. Except for "The Big Tree." While I've planted nearly 100 trees on our land since then, that glorious fir tree dominates the landscape. The Big Tree has held my kids' rope swing, served as the backdrop for family photos, cradled kittens in its branches, and created a home for countless creatures. When people talk about having a "view" in this area they often mean Mt. Hood. I had that view as a child, but it had a big tree just like ours slicing through the middle of it. Nobody ever cut it down. I was always pretty proud of that. Sometimes the big tree isn't blocking the view, it is the view.
In 2020, it's time to see a bigger picture. I plan to find the forest through the trees.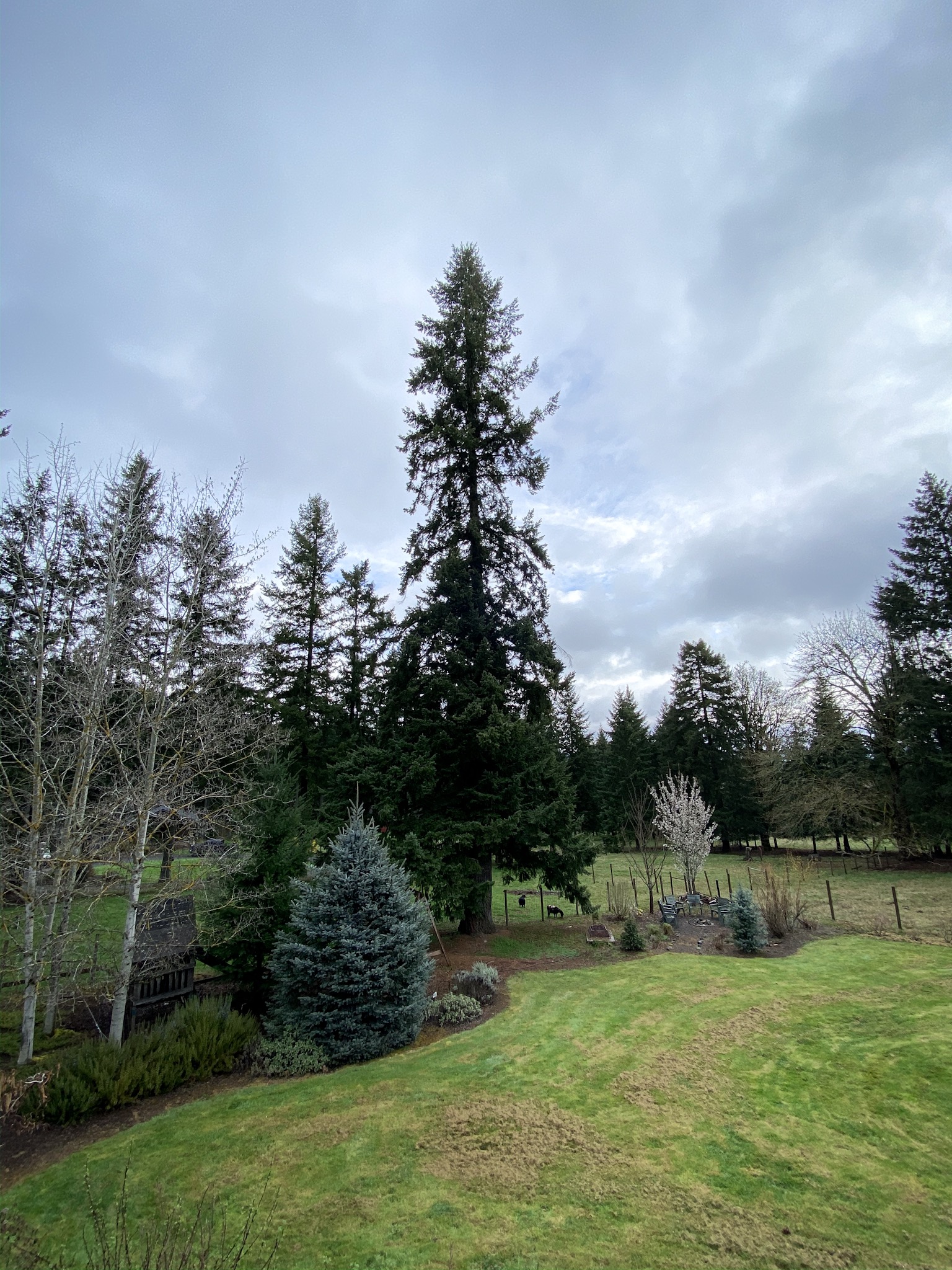 Portraits with personality. Your personality. No doubt, your clothes make a statement. So you are in charge.
Sometimes that means all you bring is a black t-shirt and jeans. Sometimes that means six completely different outfits with completely different styles. 
Ask yourself…
"What do I feel good in? What do I LOOK good in? What am I comfortable in? What colors look GREAT on me? Each of us has that magic color that gets the compliments, looks good with your unique skin tone and lights up your eyes. It makes them POP. Wear THAT. 
Bring your light and fresh and young and beautiful style.
THE TRADITIONAL GUIDELINES
It's true that solid, rich colors photograph well. I'm a HUGE fan of true blues, dark reds, warm browns and deep charcoal grays.  
It's true that large logos, high-contrast patterns, big stripes and prints are distracting. The white shirt, black pant combo really freaks cameras out. 
It's true that most photographers will warn you against wearing white. I am so NOT afraid of white. Forget the warnings. If you love it, wear it.
JUST DO ME A FAVOR
More words of wisdom? Yes! Remember your feeeeeet. Whether you cover them with socks and shoes or go barefoot…I cannot hide your feet in EVERY photo! Nor can I hide much of anything else. If you are super self-conscious about a part of your body, be sure what you wear is as flattering as possible. And please mention it ahead of time. Posing and angles can help so much. I want you to LOVE your photos.
One more pro tip…skip the "inappropriate" clothing. I don't do boudoir photography. Seriously! Or anything potentially offensive. You'll want to be sure to bring at least one outfit that fits your yearbook guidelines and can be framed for Grandma. Yes, that usually means one outfit with no cleavage.
WORRIED? NEED HELP?
Ask me. Text me a photo if you're nervous about something. Ask friends. Look at last year's yearbook. Look at my gallery of favorites.
Heard of Pinterest? Get a board going. Collect some ideas, get inspired and then shop. You can even check out mine for girls or boys or families. I collect outfit ideas and portrait posing ideas, too. 
Acne?
Usually not a problem. I will fully touch up blemishes before you ever see an image. However, if something is swollen or making you uncomfortable, let me know. I'll help you decide if we should go for it or postpone.
SOME GOTCHAS FOR THE GIRLS
Breath and Bend (aka Not too Tight): Your session will be so much more fun if you and your clothes have some flexibility.
Hidden Layers: Wear something underneath those skirts and dresses so poses can done with the minimum possibility for embarrassment. Think about how you'll change. Many locations don't allow for much privacy so difficult changes are, well, difficult.
Zap the Straps: Bring the appropriate type of bra for each outfit. Bra straps can be a real bummer.
Nail Detail: Fingers and toes will show. Natural or basic work best. Your hands will be by your face and visible so be sure the nail color compliments your skin tone and your clothing choices.
Makeup Mayhem: Just keep it real. Keep it matte…no shimmery, shiny night-time makeup. How do you normally wear it? A little more than normal is fine. A lot more will look harsh…but, hey, sometimes that's the artistic touch you want.
My biggest tip is to do your makeup with intention and to know what the camera will see. We'll be working with natural light, so apply your makeup with natural light. Take a mirror outside and make sure you like what you see. Take a selfie! And go read this article for more camera-ready make-up tips. Be sure to bring some powder if it's warm and whatever you need to touch up your lips…even if it's just Chapstick. No dry, cracked lips!

MORE TIPS FOR BOYS AND GIRLS

Head to Toes: Already covered this, but it's so super important. I'll be zooming in and zooming OUT. Plan outfits completely. Pay attention to those socks and shoes. Your pants will ride up a little on the leg. Your socks will matter. Pro tip for guys…sometimes you should even wear socks.
Hair Havoc: Changing your hairstyle or hair color or cutting your hair right before your session is a little scary. Be absolutely SURE. But if you are convinced a big change is in order, don't wait until after your session. It's such a drag to print images that look nothing like you a month later. These photos should hopefully represent you for your whole Senior year.  Another note…quick easy hairstyle changes during your session are great. But, if it's a straight to curly or curly to straight project, let's discuss if we should schedule two seperate 1-hour sessions.
Shaving: Facial hair. Just make sure what's on your face is what you want. If you want a clean face, then shave an hour or two before the session. 
Props to Props: In short, yes! Let's do it. But we should discuss them in advance and plan our location accordingly.
Accessorize: Hats, jewelry, scarves, sunglasses, etc, give great personality and attitude to a photo. Scarves are especially awesome at adding the perfect pop of color to bring out the color in your eyes. 
Glass glare: Some prescriptions are more difficult than others. I'm sure you know if this is the case for you. That said, if you always wear glasses then we should not do a shoot without them. It wouldn't be YOU.
I'm very good at working with the glare (I wear glasses and so do my kids), but one creative idea is to take the lenses out. Or even borrow the same frames from your optometrist…some cool docs will actually loan them out.
Bring a Pal: A BFF or parent or sibling or even a pet is absolutely welcome. I've had guest appearances by dogs, cats, horses and sheep so far. Bringing along your favorite someone can help relax you, tame stray hairs, hold extra clothes and tell embarrassing stories that add that great color to your cheeks and sparkle to your eye.
Braces: I can't make them go away. I just can't. You can minimize the effect they have by getting clear bands. And, if you know they're coming off in the Spring, then I will offer a split session. We can get that yearbook photo done in a mini-session in the fall and then finish up big when the braces come off in the spring. 
Headshots. Whether you love or hate them, that little square profile picture is an important first impression.
Showing off your best self in a photo that is engaging and authentic is often the reassurance an employer or client needs to move forward and connect. It is important that images are of the highest quality and natural. This is not a glamor shot. Be yourself. Wear the makeup, hair and clothes you would "in real life." A professional photographer will then work to pose you comfortably and put that twinkle in your eyes.
I personally prefer outdoor sessions for headshots. Being at a park (or an open window in a pinch) instantly creates a relaxed vibe that leads to natural smiles. Throwing in extra studio equipment and flashes can create perfect lighting but also distraction and strained expressions. It's enough pressure to look into that big lens and remember there is an actual person behind it waiting for eye contact and a smile!
This series of headshots was created for the fabulous and NEWLY ANNOUNCED Firenze Wealth Management team. There was a constant buzz of conversation behind the camera. It was obvious to me and anyone walking by that this was a team that enjoyed working together and was excited about where they were headed. Now each team member has a selection of quality images to introduce them to clients and make that first impression count. Each image sends a clear message of professionalism and approachability.
An added bonus? By shooting as a team with a consistent set of backgrounds and editing, the company now has a set of headshots that look good together in marketing materials and on its new website.
What does your current headshot say about you?
Find out more about Angie Windheim Communications LLC and how it could help your small business or nonprofit through professional copywriting and photography.
Nonprofits and small businesses are problem solvers that deliver a unique vision of how to serve.
Today's buyers, investors and sponsors are rarely impulsive. They research, read reviews, talk to friends and colleagues. They choose to support services and products that come from authentic and well-intentioned sources.
Communicating your organization's message, expertise and personality is critical in modern marketing. While quick exchanges on social media and a well-tuned website can get audience attention, you must do more to serve and develop a long-term relationship. You already know that you share an interest with your audience. Now it's time to create relevant content that shows you understand, that you get it, that you are here to serve.
Often organizations have a lot to share but sometimes lack the communication skills. Copywriters can help craft the content. If you are struggling with ideas, a skilled copywriter can become the investigative reporter you need and develop an editorial calendar for you.
Almost always, there will be more ideas developed than can be covered in a single article or blog post. If you are hosting an event or show or series of classes, consider publishing a newspaper or "show daily." It may seem like a huge undertaking, but if you have the right help, it's an amazing chance to put all that you do and represent into a very digestible, entertaining vehicle. It is a chance to go beyond the simple where-what-when event details and get to the "why."
In the C.M. Russell Museum's The Russell Review daily newspaper, each of four issues covered not just "what's happening today" but how support for these events carries on throughout the year. Educational programming and stewarding the legacy of Charlie Russell, the art and soul of the American West, is the underlying reason people come to Great Falls every March. Attendees appreciate that this once-in-a-lifetime opportunity to view and buy significant historic and contemporary Western art also helps preserve Russell's West for our next generations.
Contact Angie Windheim, Angie Windheim Communications LLC, at  info@angiewindheim.com
Small business owners are prone to a yearly philosophical check in – or let's be real – a yearly panic attack.  As the owner of a portrait photography business with one employee (yes, that's me), I get it. I have found myself each February with a deeply furrowed brow, fully engrossed in small business blogs, tutorials, webinars, and more. I wonder, how do I grow this business? Do I want to grow? Am I really offering what people want? What's my plan? These fundamental questions flood my brain until I am frozen and unable to get anything done.
So, if like me, you start watching the online business gurus with ginormous social media followings. Maybe you become one of their followers. The gurus wag their fingers from their perfectly crafted Instagrams and say that what you need is….an email list. Wait? What? That's it? Spam customers? Nobody wants that. It smells of telemarketing which is why we love that "block caller" feature on our phones.
Thankfully the gurus actually advocate something very different from spam. Phew! The gurus want you as a small business owner to succeed by "servicing" clients through thriving email lists. And they actually have amazing ideas on just how to do that. Ideas like: free downloads, ebooks, educational webinars or podcasts, online quizzes and games, consistent and authentic content, exclusive offers for subscribers, and more.
You may be thinking "Wow! Those are great ideas!!" You may also be thinking that those ides could literally take Every. Waking. Moment. You. Have. In. Life.  Who exactly would be left to run the business and do the work? Who creates the products and services that actually make money? This is when it feels appropriate to cover your eyes with your hands and fantasize about how it might just be easier to work for someone else.
I realize that I have set up quite a problem. Thank goodness, it's not a problem without a solution.
Once you recognize you are only borrowing space on social media and that email lists are a way to create a community of subscribers that is truly yours to keep, there is no going back. It is absolutely worth the time to make it happen…but you may need help. That's okay! Sit down and figure out your strengths and capabilities beyond the business you have created. Then sit down and figure out what your weaknesses are. If you are not already a photographer-copywriter-email-platform whiz, then it's time to consider investing in a local professional.
There are people who actually love and "get" social media and how it can help build your email lists. There are people who can write a newsletter or white paper or even just an action-driven subscriber landing page. They know about email campaigns and can wordsmith to reflect your authentic voice and image. There are people who are able to create the content that fits your vision and that is an investment that should ultimately pay for itself.
Some examples?
As a photographer, I have been privileged to help entrepreneurs, small businesses and nonprofits with fresh headshots and images to fill websites and newsletters with content that is intentionally crafted and enticing. No more lackluster Instagram grids! As a copywriter, I have written impactful e-newsletters, thank you letters, annual reports, website content, guest articles for local publications, press releases, and more. I can evaluate where you are now with your online presence to craft the ideal strategy that uses email lists to reach the right audience and inspire them to take action.
I am a firm believer in the power of email lists for just about every business that I can imagine. But, it's okay as a small business owner or non-profit to say "I ain't got time for that" and hand it over to a professional. I do what I love, so that my clients can get back to doing what they love.
Angie Windheim is the owner, copywriter and photographer for Angie Windheim Communications LLC 
My good friend has an AMAZING home in Oregon's wine country. And….
It. Is. WAS. For. SALE.
It was a blast to take on the challenge of framing up this beautiful space with my camera for their listing.
This home and acreage wasn't on the market long. The property is a quick drive to town and a hop, skip and a jump to wine tasting at Blakeslee Vineyard among about a gazillion other tasting rooms scattered over the neighboring hills. The yard is something out of Better Homes & Gardens…an oasis of shade in the summer. I have used the backyard for multiple photo shoots. Want a a bird's eye view of the "grounds?" Check out this super drone footage produced by Visual Concepts Northwest.
Seniors – your joy is contagious – graduation is soooo close!
It was amazing to spend a few hours with each of my Class of 2018 clients. So now with my heartfelt congratulations I cannot resist sharing one more peek at your glorious faces. But before I do, it is the season of celebration but also when adults feel compelled to share words of wisdom…so here are mine…
"You can't miss your boat. It's yours. It stays docked till you're ready. The only boat you can miss is someone else's." – Glennon Doyle
Check back as I continue to add more faces of the Class of Twenty Eighteen. Or watch Instagram and Facebook for daily posts as these almost graduates make room for the Class of 2019 (which is starting to book now – just saying). And don't miss my Love Your Photos Newsletter. It's full of monthly advice whether you are behind or in front of the camera. You can read the first edition and sign up to receive the next one here
Band photo days never disappoint. I've been taking them for a number of years now so now the kids are ready for me. They have often planned, coordinated and schemed what to do in the "goofy" shot. I just set myself up on a ladder and capture the friends, fun and memories. I love to reflect on some of these shots as I'm taking some of their senior portraits in what feels like just a few minutes later.
And the bonus? These photo days are a fundraiser for the Band Boosters. For the 2017-2018 school year we have raised nearly $900. Yes!
Are you in the Sherwood area and interested in a fun photo fundraiser for your team, school or organization? I'd love to hear from you.