sending letters against isolation

Stationery. Pretty paper with possibility. My first box featured classic teddy bears. Fuzzy-faced stickers sealed the letter closed. The envelopes were pre-stamped by Mom. And addressed to Mom. She had tucked the collection into my bag for sleepover camp. 
I spent quiet time at Camp Namanu on my bunk bed writing about the day. Precious notes likely delivered to mom after my return. No matter. The memory of writing my joy down on a cute piece of paper is ranked right up there with the natural water slide and chocolate chip banana boats by the fire. 
There's something special about one-sided conversation. Expression without expectation. A gratitude letter is even better than a gratitude journal. It is happiness received and paid forward. 
During the great disconnect of Covid I dreamed up Kindness Roots. Blank cards with a purpose. We may have been stuck and stationary. But stamped stationery had space to move gratitude and kindness about freely. Across any distance.
The Kindness Roots project continues to evolve. Inspire creativity and appreciation. Kindness Roots pushes me to pay closer attention to the beauty I want to share and how.
Letters Against Isolation is now shaping the journey. Two inspired young sisters started this nonprofit to reach out to lonely seniors. During the pandemic. Since then it has GROWN in demand and participation. I've recently joined the thousands of volunteers that write letters. Loneliness did not end with the mask mandate. Continuing to lift up elderly residents in care facilities will always be a good thing.
Writing for Letters Against Isolation is good vibes start-to-finish. My first letters reached a facility in Nebraska. I've never been there, so I had questions. It also made me consider what someone might wonder about Oregon. So I wrote about my home and the surprise snapdragons that popped up in my garden. A color never planted or chosen but a delightful discovery. Like a random and cheerful letter from a stranger in your mailbox.
To be clear, Letters Against Isolation is not a pen-pal-give-and-take situation. The project falls into organized-yet-still-random act of kindness. I have thoughts of future girls' nights writing together. Or bi-lingual friends translating letters for seniors requesting Spanish and other languages. For now it is a personal endeavor.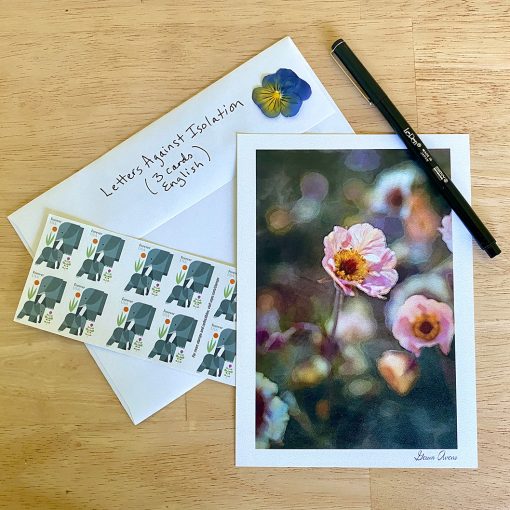 Letters Against Isolation moved me to write Mavis. My own 93-year-old grandma recently entered an assisted living facility. And while Mavis receives some visitors and many phone calls — why not a letter, too? A card can be read and looked at in the quiet moments. So I sent one. I rubbed it with lavender from the garden hoping the scent would linger.
Putting my Kindness Roots stationery to the test led me to rethink the format. The "cards" are now flat to offer a more fluid writing space. Two or three letters for a care center can slip into one envelope to save on postage.
The double-sided cards are easier to display. Magnet to a fridge, pin to a cork board, tape on a window, or even pop into a 5×7 picture frame.
The summer Kindness Roots cards continue to be printed on a luxurious and thick blend of 90% bamboo and 10% cotton. Eco-conscious paper has always been important to me. But so is the texture and feel and quality. And this stuff is so lovely to write upon. Absorbent enough to keep most inks from smearing and sturdy enough to protect the cover art.
My cedar chest contains a stack of letters from my brother when he was overseas with the Navy. Beside those are my mom's letters sent to keep me company in my first year at University of Oregon. I am not typically nostalgic. But I do have a sentimental and wistful affection for letter writing and the aesthetics of a stationery shop.
Do you have any paper treasures hidden away?