the gorge(ous) hamilton mountain
The Columbia River Gorge(ous). A voluptuous and curvy 80-mile canyon. Spanned by the Bridge of the Gods. Now a manmade structure of steel. Once a natural bridge built with a hand from – the gods.
In one telling of the Klickitat tribe legend, the Great Spirit's two sons were at war. Over a beautiful woman. Their anger shook the earth. A bridge built to unite them fell into the river. For punishment, the Great Spirit turned his sons and the woman into mountains. Pahto into Mount Adams and Wy'east into Mount Hood. The squaw forever lays asleep at the feet of Mount Adams. The bridge guardian became Mount St. Helens. The fallen bridge became a land crossing used by the Native Americans until the river reclaimed her path.
To know Lady Columbia you must earn her favor. Scramble up rocky cliffs and spires and trails that sometimes vanish and become mere routes. The reward is a breathless view of the Cascade Mountain Range. And windblown wildflowers. Delphinium, trillium, roses, balsamroot, lupine, Indian paintbrush, and more.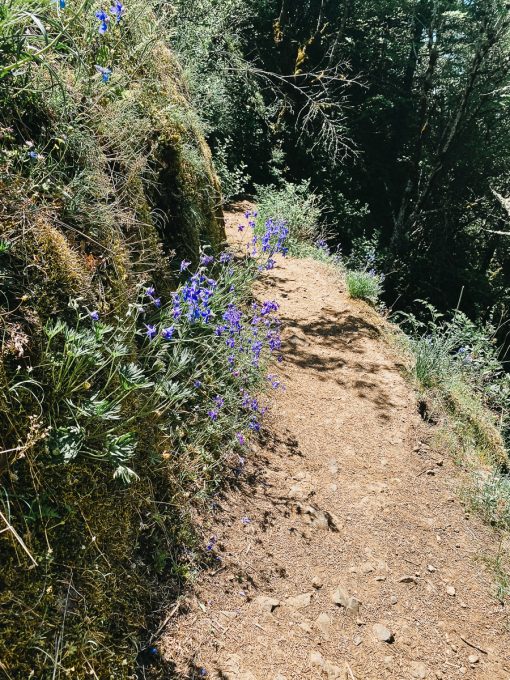 Every hike along The Gorge is an accomplishment. Like life, there are no shortcuts to the top. We try to get at least one climb above the Columbia every spring. Dog Mountain has been a repeated and stunning favorite. Angel's Rest was just okay.
Friends recently completed the Hamilton Mountain trek. The trail is on the Washington side in Beacon Rock State Park. They sang its praises. They called it steeeeep. Loooong. They groaned at every attempt to get their sore legs off the bar stools.
How could we resist trying the hike for ourselves?
Hamilton Mountain is absolutely strenuous. It is not a hike for every body. Hamilton pushed my limits. 7.5+ miles. Lots of elevation. We chose the longer lollipop loop rather than the 6 mile out-and-back.
The loop took us to the best viewpoint on a wide-open ridge. I bravely scrambled up rock faces on all fours to get there. I was a bit terrified at scooting back down them on my bottom. Gravity is for real. My knees are 50 years old. So as Ringo put it, "Take the long way home. Take the long way home."
Before the scrambling part we passed a woman who had lost her footing and fell. She was safe on the trail with lots of help. But I would prefer to skip the free ride in a stretcher to the ridge. I would also opt for my own two feet rather than the helicopter descent. Yikes. No doubt a rare event on this popular trail, but yikes. It could happen to anyone. I am a believer in good boots, lots of water, and a few salty snacks.
Hamilton Mountain is everything I love about hiking. Thundering waterfalls, rustic catwalks, wildflowers in all of the colors, imposing rock faces. Oh, and eye-level views of mountain peaks. Birds and even a prop plane circled below us. I loved the surprise of peering way down at man's attempt to capture the power of the Columbia River. I waved hello to the Bonneville Dam.
I am always so damn grateful after a hike. Grateful for the people with the vision to create these paths. Grateful for the abundant beauty of the Pacific Northwest. Grateful that my body allows me to hike 7.5 miles. Grateful for the beer and pasta at camp that tastes better than any other beer or pasta. Ever. And grateful for Birkenstocks after peeling my sweaty socks from my feet.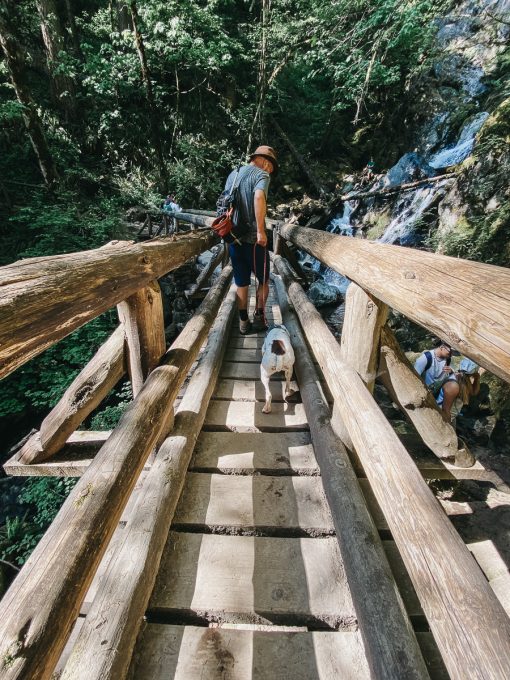 Rosie could have done the hike twice. Actually she might have done it twice. Side to side and back and forth. Plus this dog towed a person behind her. Rosie is beyond athletic. But Rosie is not a fan of the catwalks. Look at her tucked tail. Brian is dragging her across. We all have our limits.
After our hike we found a wonderful camping spot covered in trillium flowers. And pitch. Those cool trees left a sticky mess. We lucked out and could hop just a few campsites over. Deciduous trees overhead. We had a lovely night along the Wind River.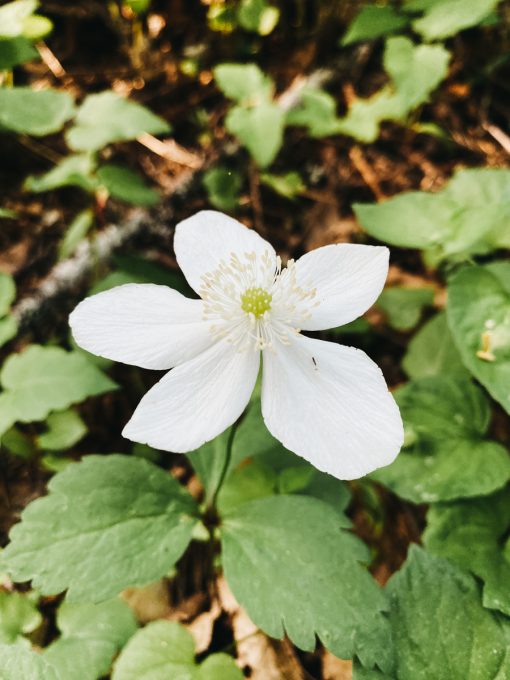 We skipped hiking and hobbled through day two in The Gorge. Instead we added another brewery to Rosie's esteemed Brew Dog list. Backwoods Brewing is now among over 50 unique pubs that Rosie has visited. She is only 19 months old. I am not embarrassed by this at all. Also, we pride ourselves on taking a "bad pub picture" at every stop.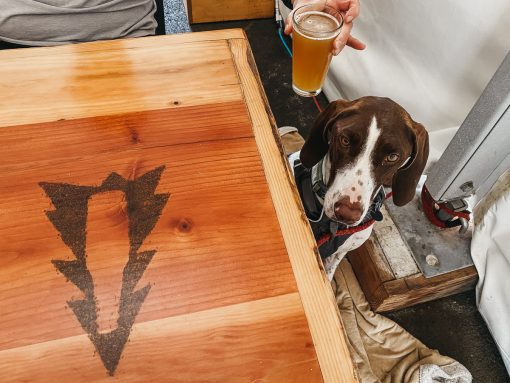 The town of Hood River will forever have a gravitational pull on me. Or it could be Double Mountain Brewery's beer and pizza. It is hard to know for sure. But caught in the tractor beam we were.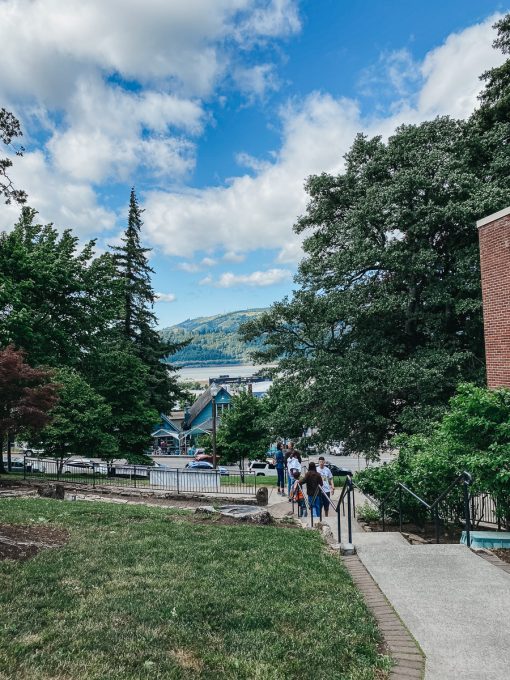 We managed a short walk around town. As we passed by the library I noticed two tall poles with letters written by Hood River students. I read them. Word for word. Looked at the incredible view. Sighed. Such young voices with powerful wisdom and clarity. Who can read such sincere desire for a better world and dismiss it?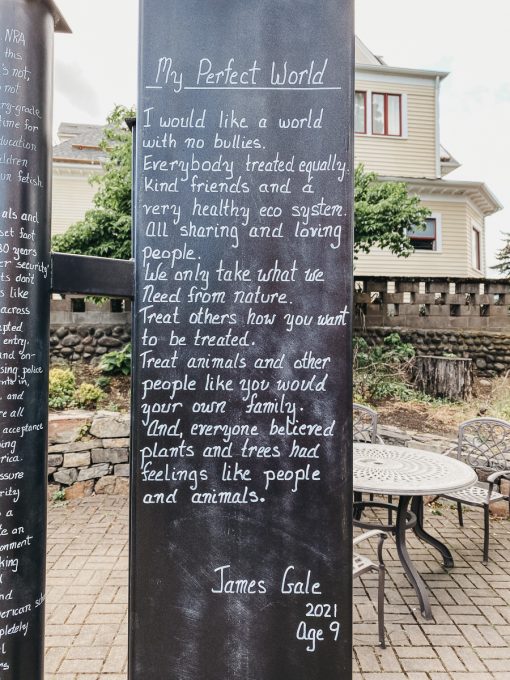 Our kids live in fear. Of a dying planet. Of shots ringing out in their classrooms. Of adults who build fortunes with no future.
It was hard to read the words of a 15-year-old girl who dreads the first day of school. But that's the right kind of hard. It makes me look again for leaders with solutions. It makes me vote in every election. From school board to president. I hope these vision poles start popping up in more communities.
Our evening ended with a giggle at the saddest, abandoned outdoor movie theater I ever did see. And then The Gorge released her awesome power. She whipped up the fiercest winds. Our rooftop tent – held secure by the weight of our bodies – managed to withstand the assault. The rising sun was a delight. I wanted out. I felt like Dorothy all night and wasn't quite sure where I would be waking up in the morning.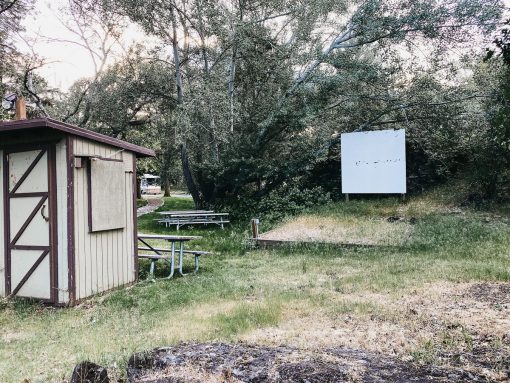 Too windy for another hike on day three, we opted to "Take the Long Way Home" again. We wound our way along the Historic Columbia River Highway. Stopped for a few waterfalls and a view of Crown Point. A lovely end to a beautiful weekend.
We left The Gorge with a pocket full of new memories. Some sore legs. And a few lessons. I brought home the determination to keep this body of mine ready to move up mountains. And to keep my mind always open to a new perspective.