isle of skye
Making memories. I love the idea that memories are made. Imprinted with intention. We can choose to remember a moment, a day, a week. Two critical steps stand out. Pay attention. Write it down.
Journaling has left me with a vivid recollection of our 30th anniversary trip to Scotland. I kick myself for a lifetime of ill-kept diaries. I've relied on massive picture books to trigger the stories in my mind. Wonderful projects with a vision, but not my voice. Details are lost.
Brian and I often joke that if there is no picture proof it didn't happen. Yet more and more I leave my camera dangling around my neck. Hoping to see the world through both my eyes (a line from John Mayer that hits hard for photographers). Could be wisdom. Could be the progressive lenses.
The message is write it down. A lesson learned at 50. Old dog. New trick.
Oban => Isle of Skye
Our final leg in Scotland took us to the Isle of Skye. For years I have shown ethereal (and over photoshopped) pictures of the Fairy Pools to Brian. We knew we could never see all of Scotland. Sacrifices were made. Skye was on the way to absolutely nowhere else. But it was a non-negotiable destination.
With sausage rolls, coffee, and a wistful sigh we left Oban. Our anniversary was in the rearview. We could say we'd been hitched "over" thirty years.
The first stop was Fort William's High Street for more coffee and a little shopping. Many stores were geared for the big outdoors. Tourists come to Fort Williams as a base camp. Hoping to "bag a Munro." Claim their fame at the top of Ben Nevis or another local hill mountain over 3,000 feet. We however were only on a failed search for an authentic woolen flat cap.
A quick surprise detour was next. Now wise to Scotland's growing farmhouse breweries we visited Glen Spean. Brian picked up a few choice bottles with hopes to find access to a refrigerator at the bed and breakfast.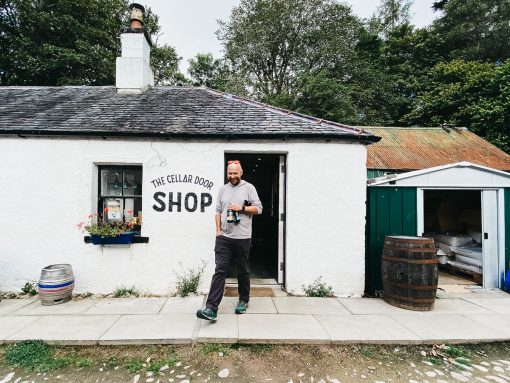 Inverness was not on our travel path. But we discovered we could still sneak a peek at the infamous Loch Ness from Fort Augustus.
The festive little town was filled with boats and people and sun and restaurants. Not quite the moody monsterly image I'd imagined for our view of Nessie and a lunch break. But the pay-to-pee bathroom made the experience a wee bit of a nightmare. No coins in our pockets and the fish and chips joint cruelly displayed a sign saying "no change for bathrooms."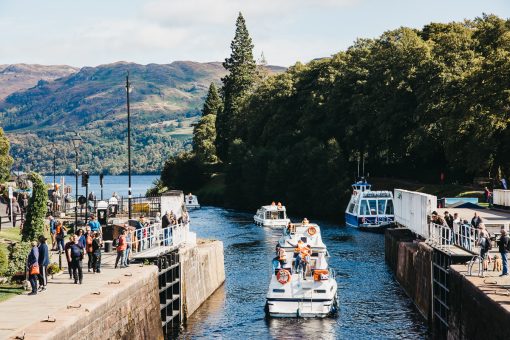 So I had to hold it. And hold it. Until we came upon the Kintail Lodge. A beautiful site in the middle of nowhere with a great tap list and a bladder-saving, free bathroom.
Feeling lighter on on my feet we explored the nearby Kevin's Way. A little trail lined with lush Lady's Mantle greeted us. The hillside was covered with magenta heather. Nature thrived and surrounded the Clan MacRae War Memorial. The church ruins are an ancient burial site of the MacRaes of Kintail.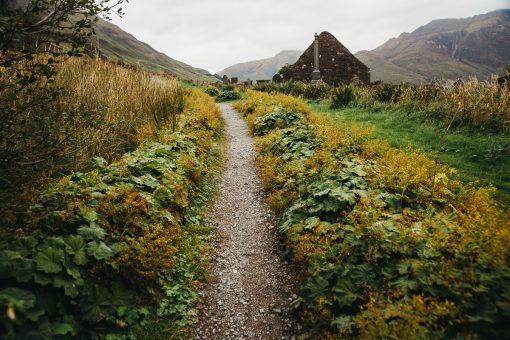 Four generations of the MacRae family are the Constables of Eilean Donan Castle. With a bridge to its own little island, the castle is one of the most iconic and photographed in Scotland. Of course we had to hit the breaks to get our own picture-perfect memento. You may recognize the romantic wonder from its cameos in James Bond and Outlander.
As we approached the Skye Bridge over Loch Alsh we delighted in our timing. With the long daylight in Scotland we still had hours for another adventure.
We took a moment to fill up on smoked salmon and cullen skink at Fisherman's Kitchen Kyle. Nourished we were off to Glen Brittle. It was a photographer's dream to be at the Fairy Pools at golden hour.
After harrowing single-track driving, the Cuillin Mountains appeared. Mountain spring water spilled over waterfalls into pool after pool after pool. Low clouds drifted in and out to add mystery to the mountain tops. Heather bloomed beside the stream. The sun offered a gentle glow. I felt like Dorothy and wanted to skip up the path.
The notorious midges were with us. At least that's what Brian reported as he donned his protective hood. My Scotland travel research overflowed with warnings about the tiny flying pests. An older couple came equipped with nets over their faces. I neither saw nor felt any bugs. The fairies must have known I needed this moment all to myself. Or midges are fairies. They pester the humans who don't believe.
The Isle of Skye is one of the most popular destinations in Scotland. Natural wonders abound. We were at the Fairy Pools in mid-September at the far end of the day. The foot traffic was light. Everyone was watching their step and respectful of the space. Apparently it gets a bit crazy though in the summer. Complaints of vegetation smashed and eroding banks.
I bellyache about the inconvenience of tickets and reservations for Oregon hiking trails. But I do know it is crucial to manage our impact on these amazing spaces. I support the "leave no trace" movement and agree to whatever it takes. And my joy soars on rare hikes when the sounds I hear don't also walk on two legs. I hope the people of Skye find the balance between sharing the beauty and saving it for future generations.
As long as we are graceful, appreciative lodgers, the earth remains healthy and wondrous.

Scottish musician, KT Tunstall
Our one full day on Skye started with a full Scottish breakfast at the Red Red Robin Cottage. The bed and breakfast was a short single-track drive from Portree with a lovely little room, private bath, and a morning feast. Our Italian host presented a homemade muffin of the day, coffee, tea, toast and jam, eggs, potato pancakes, bacon, and more.
Portree is a postcard. A town nestled on the water and bustling with quaint shops, tempting restaurants, and contented tourists. The fish and chip line snaked around the dock. A dog poked his head out of a second floor window to people watch.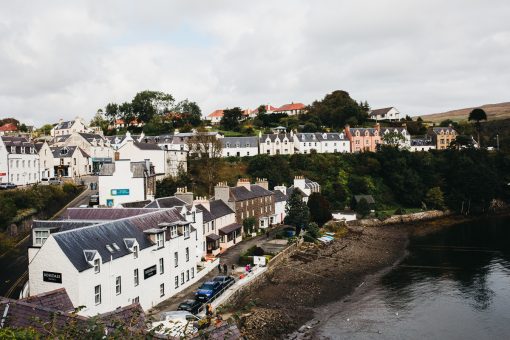 We window-shopped then grabbed takeaway sandwiches and drinks for a roadside picnic. It was our day to embark on the 50 mile loop around the Trotternish Peninsula.
Every turn of the Trotternish Loop was a stunning new scene. We'd filled up on fairies and were now after the giants. Steep land slips and pinnacles, cliffs over the sea, sweeping green valleys. We climbed and climbed the impressive steps to visit the Old Man of Storr, the giant of Trotternish Ridge. Local lore says the Old Man was laid to rest upon his death and his stony thumb remained above ground.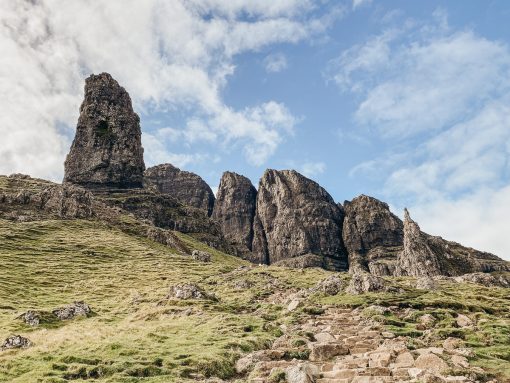 The loop is easily managed in a day. A better idea would be to take three. Overnight camping would be a dream. Skye is an amusement park for hikers. I wanted to stop and go on every ride. Get off one and run to the next. Alas, we had come to the end of our visit to Skye. To add to the drama, it was also the end of Scotland for us.
I had the good forethought to plan ahead for our last dinner. I booked the Rosedale for nightfall. I enjoyed a glass of wine with a plate of perfection. Blackened hake fish and creamy risotto. A wonderful way to say good-bye and end our trip.
Sláinte Scotland.
Curiosity stretches and expands the heart and mind in infinite directions. But only if we take action. Travel satisfies my innate inquisitiveness. Engages all five of the senses. It is a gift to be the foreigner. Welcomed and offered a chance to understand the unique story of a land and her people. To appreciate the kindness of strangers. To realize that we are all in this beautiful world learning together.
Creating a better world is not someone else's problem. We all share all of the responsibility. Each a different branch of the same tree. Rooted in the same earth.
You can mark my words, I'll make changes to earth.

While I'm alive, I'll make tiny changes to earth.

Head Rolls Off by Scottish indie rock band Frightened Rabbit
This was the final post in my Scotland series. Don't miss Edinburgh, the road to Tarbert, Isle of Islay, and the road to Oban.