30 years of marriage. The year of the pearl.
Once the shade of color on a wedding dress. Innocence, purity, and sincerity. Now an organic gem. An iridescent object created by a slow and delicate wrapping of life's irritants in love and wisdom.
I appreciate the pearl as a symbol and sentiment. But skip the shiny objects in a box. We celebrate our years together with travel. No string of pearls around my neck. Serve the mother of pearl on a platter.
Aye to oysters in Scotland.
When the world is your oyster, it can be overwhelming to settle on a destination. Scotland was obvious. At 25 years married we leisurely roamed London and Dublin. We could finish the decade and wrap up the UK.
Scotland is home to more than a few of our favorite things. Sipping on smoky peated whisky. Dark pubs and pints. Fish. Chips. Frightened Rabbit, Chvrches, and KT Tunstall. Ewan McGregor. Enchanting landscapes dotted with castles. Fairy pools and hairy highland coos.
I even have a wee bit of heritage on my paternal grandmother's side. Halò to the McFerran clan. RIP to Great Grandpa Mac.
So it's off to Scotland with mo charaid, mo chridhe. My heart, my best friend.
Portland => Edinburgh. Scotland day one and two.
Our first evening is on foot. We are jet lagged but determined to reset our circadian rhythms. We walk up, up, up the Edinburgh streets. To The World's End. Our first in a sea of historic pubs. No zombies in sight. Just a much needed pint. Some fish. Some chips. Some mushy peas.
Memory of the long flight fades with the light and our energy. Rain pours down. A proper Scotland welcome. Brian's new jacket proves its worth.
A quick nap before dinner means an unexpected struggle to find food. Pubs stopped serving in the early evening. Searching on phones for "late dinner" under street lights we settle on Dishoom. Indian food. Why not?
We arrive to a quiet desk but an hour wait. Confused. Options dwindling. I ask if we can get a drink to pass the time. We are swiftly led down a back staircase. Voices hum and grow louder on the descent. Glass clinks. Turn a corner and a bustling speakeasy appears. Time flies. A buzz buzz on the table. We are lifted up two floors to a gorgeous dining room. I try my first gimlet. The meal is one of the best I've ever had.
We awake in Edinburgh ready to conquer. Yesterday's sneak peek revealed we are in for a pub hike rather than a pub crawl. Sausage rolls and coffee in hand we begin. Climbing staircases, darting up alleys, immersing ourselves in a Harry Potter scene. Setting our sights on Edinburgh Castle. The town crown. We wind our way up, then down for views from the Grassmarket, Granny's Green Landing, and Flodden Wall.
The historic pub sightings are nonstop. I become Queen of the Half Pint to pace myself. Maximize my patronage. Sitting at The Beekeepers Inn we observe the comings and goings at The White Hart Inn. Travelers stop on the street. Stare at an entrance curiously. Check their phones nervously. A door swings opens. One-by-one they enter. Exiting mere moments later. We joke about what they could be doing. Attempt to solve the mystery.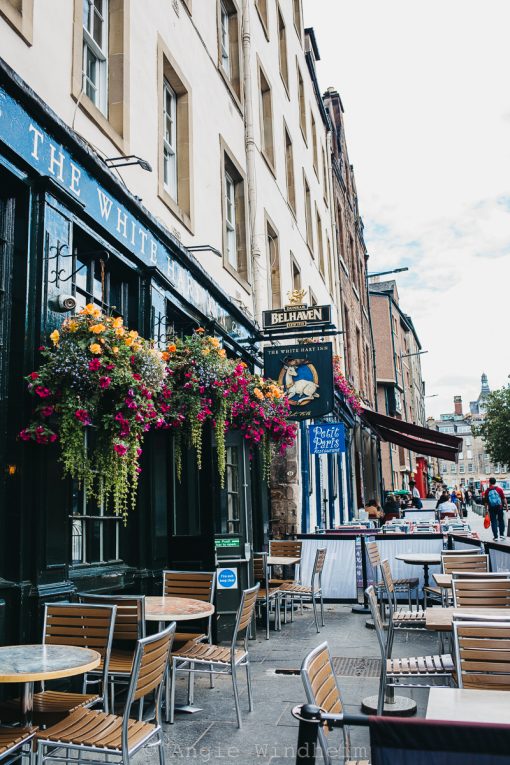 The White Hart Inn has five centuries of stories to tell. Are they ghost hunters viewing remnants of grisly tales? Is Harry Styles tucked away signing autographs? Are they part of a secret literary society? The bard Robert Burns stayed at The White Hart Inn. He penned Ae Fond Kiss for Agnes Maclehose there. The rafters painted with his words. Poets and pubs. Makes sense.
And we'll take a right good-will draught, for auld lang syne.

Robert Burns
We pass The Wee Pub on our way to Greyfriar's Bobby. A pub named for the legendary, loyal Skye Terrier. Bobby stayed by his best pal's side even when the chap was dead and buried. In Greyfriar's Kirkyard. An impressive cemetery behind the bar. We drink a half pint, chat with locals, and watch tourists rub the nose on Bobby's statue. Good luck for them but not for Bobby. His nose is in constant repair.
Our step count mounts. We earn our pints. Duck out of the rain into The Doric Tavern. A sunny sidewalk sit at Deacon Brodie's. We nod to a true Scotsman. His beard would be the pride of Portland. His denim kilt, tats and boots would fit right in at home. I look around for a "Keep Edinburgh Weird" mural. But no. The view is filled with St. Giles Church. No way of knowing that Queen Elizabeth II will pass the very next day. Her procession will travel this street. She will rest inside that church. On our anniversary.
Up, down, and around. The Royal Mile is much longer and serpentine for us. We find rainbows and more walls. Flodden and Telfer found, then lost, then rediscovered miles away. We learn the imposing gothic spire is The Hub. Both welcoming and foreboding. The crimson accents are impossible to resist. Appearing to watch over the city like the Eye of Sauron. More Lord of the Rings than Harry Potter.
Spontaneity works in our favor for most of the day. Luck runs out at The Devil's Advocate. No tables. No option to wait. But Brew Dog saved us a seat.
So did The Newsroom. Sadly the meal could never live up to Dishoom. We were mad to order burgers in the UK. Overcooked. No shit, Sherlock. It's elementary, my dear.
Our last stop is The Conan Doyle near Picardy Place and our hotel. I think Sir Arthur would have appreciated my take on Edinburgh.
I have seen too much not to know that the impression of a woman may be more valuable than the conclusion of an analytical reasoner.

Arthur Conan Doyle
In the morning we rest our tired feet and find those oysters. The road trip adventure begins.
This is part one of four in the Scotland series. Read part two: Edinburgh to Tarbert.
See my photo gallery from Edinburgh here. Select prints are available on Etsy or email angie@angiewindheim.com