On our third morning in Scotland we bid a fond fare-thee-well to the mainland. Drove our wee car onto the Caledonian MacBrayne ferry in Kennacraig. Our four feet and four wheels floated the sea to see the Queen of the Hebrides, the fair Islay (eye-lah).
Once on board the sizzling savory smells instantly tempted our already well-fed stomachs. We indulged and shared a full Scottish (second) breakfast. Even made room for the black pudding.
Feeling a bit stuffed and stifled, we left the cabin confines for the crisp salt air on deck. As the hull split the water the time flew. Port Ellen appeared and we immediately set upon our two-day quest. A search for the perfect dram.
Dram: a measure of whisky that is pleasing to both guest and host.

Raw Spirit: In Search of the Perfect Dram by Iain Banks
Islay is the (is)land of peated whisky. Sips of smoke in a shot glass. Harboring not-so-subtle notes of campfire, chimney, bacon. The intensity is determined by how long the malted barley sat sauna style in the pungent peat heat.
Whether the peat effect is rank or beautifully aromatic depends on the nose of the beholder.
As the daughter and granddaughter of firefighters, aka men who love to play with fire, my nose inherently goes for toasty-roasty-woodsy bouquets. My love of smoldering scents and flavors didn't need to develop. I was born with it.
Whether a bottle of whisky is 10, 18, or 50-years-old, the peat used was wayyyy older. And infinitely more valuable. Peatlands cover a mere three percent of our global land, while storing at least twice as much carbon as all of the world's forests.
Peat is also an unsustainable yet coveted energy and water resource. A familiar fossil fuel story. Cutting a block of peat of a mere 30 centimeter depth takes 300 years to replace. Drained peatland may never recover. If ever there were a case for the honorable harvest approach, this is it. Whisky makers play a small part and the world a bigger one in restoring and respecting this gift.
Knowing that heather grows over the wet peatland, I watched for the late season blooms. Subtle drifts of pink were everywhere on our way to the island capital of Bowmore – home to the "round church" and the town's namesake distillery.
Our first Islay tasting flight is set in Bowmore distillery's gorgeous tasting room. A wall of windows offer a relaxing sea view. We gobble a quick market charcuterie picnic on the shore. Then loop around Loch Guinart to Bruichladdich (brook-lah-dee) distillery in pretty Port Charlotte. Here we purchased our first souvenir bottle. An organic special edition we won't find at home.
Next we meandered down a single track road to the end of the isle. Portnahaven. Population 150. A church and a lighthouse. A herd of hairy coos grazed with a sunset and sea backdrop. I tried to coax the most precious baby Highland calf to come a little closer. He declined. Portnahaven took the lead for the prettiest village awards.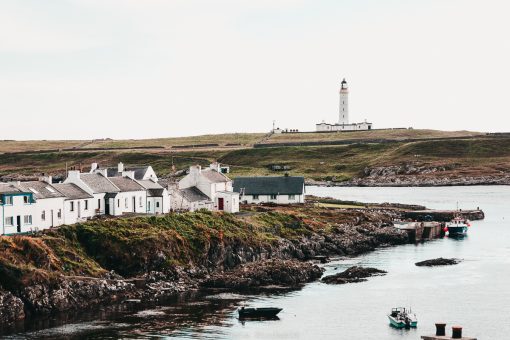 Dinner turns out to be a challenge. Our target, Peatzeria, was unexpectedly closed. Also unavailable (to us) the next day. There website now says, "We are open daily for lunch and dinner. But please book your table ahead to avoid disappointment." Again, the booking a table thing is a thing. Heads shake everywhere. You can't wait. Or sit at the bar. Spontaneity on Islay does not happen. Our Bed and Breakfast host suggests the Port Mor Community Cafe. A fish and chips picnic filled the void in our tummies. The table view over the loch filled up everything else.
Loch Gruinart House awaited us with a cozy room in a converted post office on the edge of a nature reserve. A bottle of prosecco on the dresser. A note of congratulations for 30 years of marriage. The location is serene with the occasional baa of sheep. The flower garden is an inspiration. The hosts are friendly and helpful.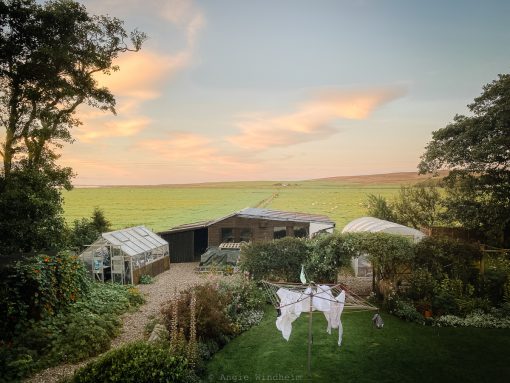 The next morning began with Brian running to parts unknown of the Islay countryside. I opted for leisure and start the day with jam on homemade bread and a cuppa hot coffee in the guest breakfast room.
It was clear from the start that this would be a stunning day on the whisky coast. Gone was any hint of Scotland's constant cast of gray. Our whisky walk was to be sun-kissed. We wore big smiles and t-shirts while marveling at our luck. We had looked forward to this part of our itinerary for months. It was already surpassing our best imaginings. Islay will forever be remembered as one of our very best days.
After a quick drive back to Port Ellen, we parked and gathered supplies. Takeaway treats from the adorable SeaSalt Bistro. Bottled water from the market. We peeked into the various doorways and windows as we walked. Signage was non-existent in Port Ellen. It could be a shop, a post office, a cafe, an apartment.
Still, we had no trouble finding our destination thanks to Google. The start to the Three Distillery Pathway appeared before us. The paved biking and hiking trail skims the shoreline of the Sound of Jura. With "rest areas" at Laphroaig, Lagavulin and Ardbeg. So much better than the tea houses in Canada. We would happily earn every dram on the seven mile walk.
Our first stop was for a breathtaking view and free "welcome drams" at Laphroaig. Staffing shortages had not skipped Scotland. No bar for a few hours. But we were far from disappointed. Besides, we were all about pacing ourselves.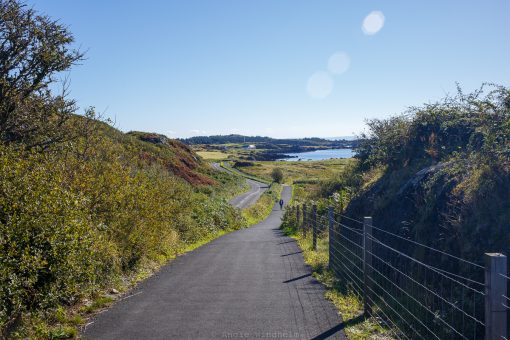 Back on the path we passed by Lagavulin. A strategic decision. Timing lunch was essential for a day of whisky imbibing. A bite at the Ardbeg Ardstream would be our mid-day, half-way stop. We grabbed a table in the large courtyard. Such Portland vibes. Complete with a colorful mural and craft beer. A whisky flight tastings and wandering followed.
The grand finale was a stop at Lagavulin. Smoke sipping a flight of Caol Ila and Lagavulin in a rustic pub on site. Our bartender was full of chatter. She reminded us of the Oregon connection to the Scotland whiskies we love. Wooden washbacks are constructed in Scotland, but the wood comes from Oregon. They call it Oregon Pine. We would call it Doug fir. From the west coast of America to the west coast of Scotland. A century-long, cross-Atlantic connection.
We discussed the hints of vanilla and other nuances. How I always expect "smooth" to be my favorite, but it rarely is. I mentioned that "peanut butter" whiskey is popular at home. Her look was incredulous. Confusion tinged with disgust. She kept shaking her head. I lost all credibility. I don't think Skrewball has a future across the pond. Not even if the peanuts were peat-roasted.
Across Lagavulin Bay is Dunyvaig Castle. We backtrack to a trail that leads to the ruins. I snap picture after picture of the sun stars on the water as Brian scrambles up rocks like he is 10 years old. You can age the whisky but not the man who drinks it.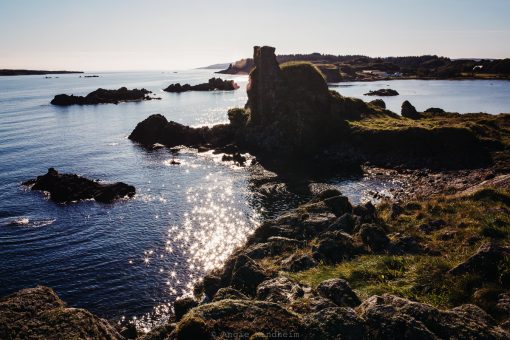 At the end of the day we concur with Iain Banks – who's book men must before entering Scotland. The feminine folk can read The Bookshop on the Corner by Jenny Colgan. Also please watch this video by an "enthusiastic" Scottish distillery guide. But swallow your dram first.
"After doing extensive research, I can definitely tell you that single malt whiskies are good to drink."

Raw Spirit: In Search of the Perfect Dram by Iain Banks
Back in Port Ellen. Back at the SeaSalt Bistro. We don't even try to find a restaurant. We decide takeaway fish n' chips by the water is never wrong. It was perfect.
Scotland's goldenhour lingers and lingers and lingers. A photographer's dream. After finishing our perfect golden fried fish, we still had time for an adventure.
We bumped along a single track road and stopped in the middle of an Outlander set. Then a breathless moment watching light burst around the Celtic Kildalton Cross. Carved in the 8th century AD the art has "similarities to folio 7v in the Book of Kells." A book that left me a bit misty eyed in Dublin.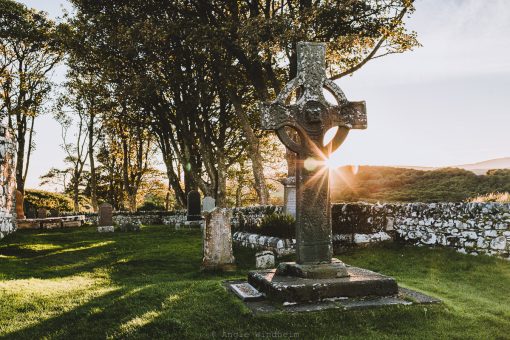 The Gaelic kingdom lasted on Islay until the arrival of the Vikings. Norse once ruled the islands. No wonder me and my Scottish heritage and Brian and his Norwegian heritage both felt at home on Islay.
A perfect ending to a sweet, sweet day. The next morning we said goodbye (too soon) to Islay. Cheers. Sláinte mhath. Slawn je vah.
The early ferry whisked us away from Port Askaig. We wished for another day. But were also pulled to Oban, the seafood capital of Scotland.
If you have enjoyed part three of my Scotland series, don't miss part one and part two!