oysters in oban
Traveling is bittersweet. Soaring on wave after wave of new and thrilling experiences. All with an undercurrent of understanding that "once-in-a-lifetime" means "once-in-a-lifetime." Scotland was showing us her best self with Islay. We waved a wistful goodbye to whisky island.
Moving forward meant finding our way to a firth on our fifth morning in Scotland. A long strip of sea reaching into the land awaited. Oban (Oh-bin) is "The Little Bay" town that sits on the Firth of Lorn. The Seafood Capital of Scotland. The gateway to the Hebrides. The home of the "dark stranger" MacDougal, son of King Somerled, and Dunollie Castle.
Isle of Islay => Oban
We plotted a meandering countryside path to Oban. A simple agenda of castle spotting. We'd arrive in Oban sometime before sunset.
Our first stop was coffee. Lucy's at Kilmartin. A food truck with picnic tables and a whole lot more to see.
Kilmartin is a small village at the center of Kilmartin Glen. Land peppered with prehistoric gems. We had stumbled into the Neolithic and Bronze Age of Scotland.
The museum was closed for renovation. A missed opportunity. I would have loved to learn more about what we were seeing. Spent the day fully exploring the six miles of archaeological sites.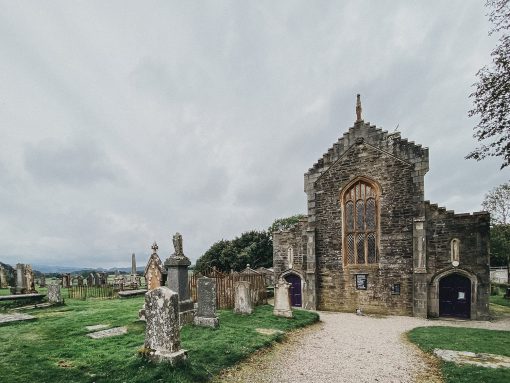 Castle spotting was an Easter egg hunt. Some laid out in the open. Others hidden and passed by. Scotland could use an official "castle crossing" sign. Like the sheep, they dot the landscape. I discovered too late that a blue thistle symbol is a signal to tourists.
Still my castle spotting game was solid. We climbed up, down, and around the 16th-century tower house of Carnasserie Castle. Playing hide-and-seek would be epic there. We also snuck through the muck on a "trail" to see Kilchurn Castle. We picked a route that somehow did not suck the boot off of my foot. The private and gorgeous view across Loch Awe was worth every squish. We shared the bank with only a few sheep and ducks.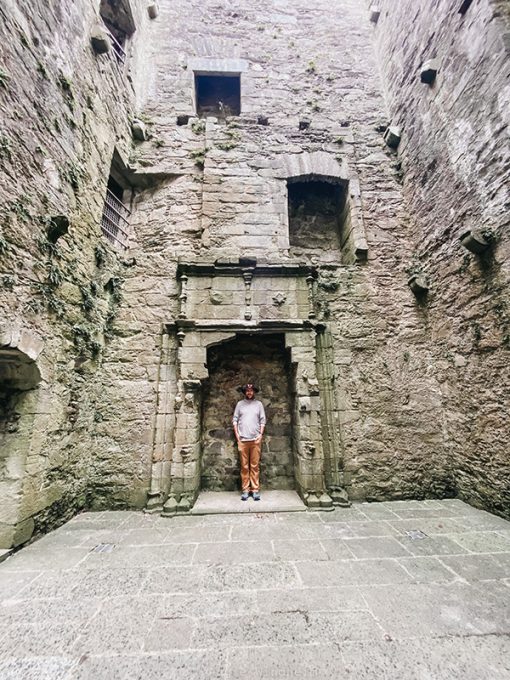 My travel regrets almost always involve missed photos. The orange sheep will live only in my memory. Wooly pumpkins scattered across the hills of the Scotland back roads. In hindsight I know that I cursed the photo. After seeing them at every turn, I said out loud, "next one we see we have to stop." We never saw another ewe in that hue*.
I found no single answer on why the fleece was flocked orange. Theories ranged from simple aesthetics to thwarting thieves to helping herders. One dye-in-the-wool farmer was supporting multiple sclerosis awareness.
Arriving in Oban was delightful. Instant good vibes. A bit of an Astoria, Oregon feel. A more vividly imagined and welcoming version.
No trip is perfect. A moment here and there that fades in our memory and story-telling. One disappointment was our lodging in Oban. We splurged on a bed and breakfast recommended by a Scotland blogger. A heritage house with adorable rooms and continental breakfast along the promenade. Well. "Staffing issues" turned quaint and cozy into an empty lobby and self check-in. A room in the "new addition" out back with a parking lot motel-style entry. No breakfast in the dining room and zero charm. Whoops to the Witchwood House.
In the end, the switch at the Witchwood means we don't dawdle. Get out of dodge. A brisk morning walk along the promenade to the pier for brekkie. A tiny little cafe stop right at the ferry terminal with outstanding bacon sausage rolls. And a perfect flat white. We would enjoy Food from Argyll at the Pier both mornings in Oban.
On this very morning, but 30 years ago, we prepared to say "I do" at East Fork Country Estate in Damascus, Oregon. Three decades flashed by like three seconds. We held our breath together. Dove to the deep dark unknown together. Now we float, warm in the sun, on the calmest of seas together. It was our pearl anniversary in Oban. We slurped oysters, sipped whisky, and marveled at our luck. I found "my person" at eighteen. And I knew it. Married him at nineteen.
Pearls don't lie on the seashore. If you want one, you must dive for it.

Chinese proverb
Our first adventure of anniversary day was to climb and investigate the crown perched on Oban's Battery Hill. Inspired by the Roman Colosseum, McCaig's "Folly" was the incomplete vision of a wealthy banker. John Stuart McCaig commissioned the tower over a century ago as a vanity project. An unfinished monument to his family. The skeletal framework gave some a laugh. But it also made for a stunning lookout over Oban.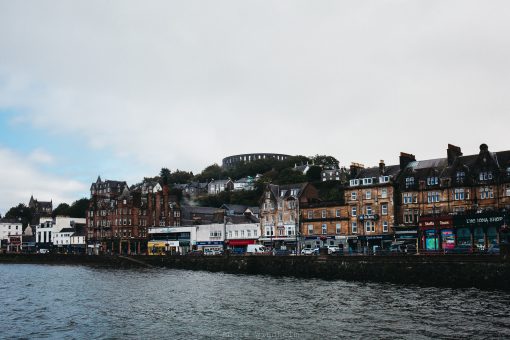 Back down to town and a little shopping. I found my perfect Scotland memento. A wool plaid shoulder bag with a Highland heifer charm. While not a McFarren Clan tartan plaid (if that even exists), the purse makes me smile. And perhaps as tough as any pearl. Scientists have a piece of true tartan found in a peat bog dated 1500-1600 AD.
Lunch was on the pier. The "Green Shack" was quiet when we passed by earlier. Hours later the live edge tables overflow with seafood. People are shoulder to shoulder. A man stood beside the shack over a steaming pot. Handed us each a paper cup of fresh mussels to pass the time in line. Delicious. We debated. How many oysters would be enough? What else should we try? If I could bottle the energy at the Oban Seafood Hut I would carry it with me always.
We nestled into an empty space at the community table. Various languages babbled around us. But the folks across are Californians. With enough food to be there all day. Our oysters arrive and they are fist sized. Intimidating. I swiped the most petite morsel on the platter knowing I had to go for it. Chewing is not an option.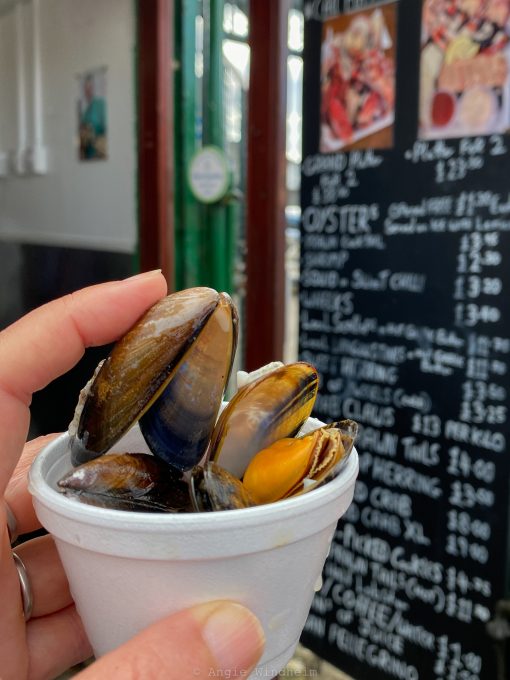 Follow the taste of it

Jump in

Swallow it whole

Jump in

Someday Soon lyrics by Scottish musician Katie Tunstall
A wee bit of whisky was a certainty for the day. Sláinte to 30 years. We walked from the pier to Oban Distillery. Brothers Hugh and John Stevenson started making craft whisky right there in 1794. Before the namesake town was built. Before whisky distilling was even legal in Scotland. Oban is one of Scotland's oldest distilleries. Never moved. Never expanded. Seven dedicated souls manage the entire process for the amazing – dare I say my favorite – single malt.
We filled the rest of our day indulging. Another trip to The Green Shack. A walk through the Dunollie Castle woodlands. Hours of people and puppy watching with pints and a coveted window seat at The Oban Inn. A fantastic and fancy wine dinner at Coast Restaurant.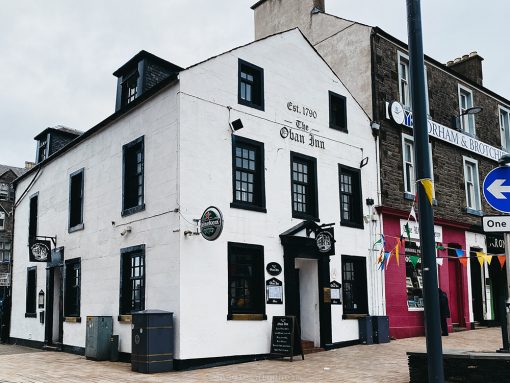 Nodding off to sleep on my 30th anniversary I felt content with my day. Filled with anticipation for tomorrow. Much like our wedding day. We left the next morning to stroll beside the waters of Seattle's Elliot Bay on our first honeymoon. For our thirtieth honeymoon we would stroll along the Isle of Skye's Loch Portree.
We'd come a long way, baby. Scotland, oysters, and whisky were once far beyond our imagination. We couldn't even be served a beer in 1992.
"You needn't tell me that a man who doesn't love oysters and asparagus and good wines has got a soul, or a stomach either. He's simply got the instinct for being unhappy."

'Saki', pen name of Scottish writer Hector Hugh Munro (1870-1916)
You have just read Part Four of my Scotland series. Click to catch up on Part One, Part Two or Part Three.
If you are dying to see the dyed sheep, then click to see this photo by Rob Lightbody on Flickr for proof. He got the shot I wish I had in my camera.